Forthcoming
3010055
forthcoming
items
1
date
desc
1
title
Published
3010055
published
items
1
date
desc
1
title
Book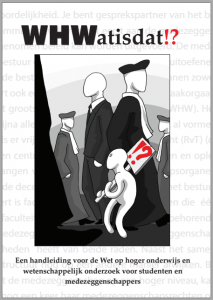 I co-authored a book on an assignment for the Dutch national student union (LSVb). I also edited its second and third editions. As of October 2016, it is in its fifth edition and is the standard handbook for student co-determination at universities and vocational learning institutions in the Netherlands.
The illustration on the front cover was made by gifted illustrator, philosophy graduate, and close friend Jorrit Kiel.
3010055
9UB7ACQG
items
1
apa
default
ASC
1
title
ISBN: 978-90-74884-16-7.
Theses
I wrote my master's thesis in philosophy under supervision of Marc Slors and my bachelor's thesis in artificial intelligence under supervision of Pim Haselager.
3010055
thesis
items
1
date
desc
1
title